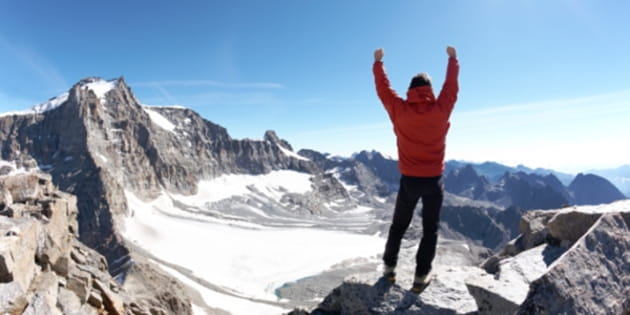 Nothing to Fear Except Unbelief
Fear of failure and fear of death are common concerns for mankind. Once I was trapped inside an overturned truck that had lost its gas cap, replaced by a temporary Beanee-Weenee can.
I had just filled the gas tank with 18 gallons of gasoline, which dumped out underneath the truck. I was pinned in the cab, upside down, unable to move because my feet were trapped by the gear shift and dump lever of the farm truck, with the top of the cab mashed down to the level of the window openings, giving me just enough room to not be crushed. Gas fumes were so strong I could hardly breath. There was a probability that any second the thing would go up in a large whoosh of flame.
I was trapped like that for 45 minutes, until neighbors managed to pry the truck door open, and bend the dump lever to free my feet, then pulled me out of the cramped space, feet first. By that time, an ambulance had arrived, and I was loaded up to take for check out. My pulse and blood pressure were normal when they checked my vital signs. I had been constantly praying and warning people not to light a match.
Recently I underwent a prostate biopsy with local anesthetic, and 12 sticks for the procedure. Other than the indignity of the occasion, it was no problem. I reminded myself of what I said when I was extricated from the truck, "I will never be uncomfortable again!"
Perhaps it was an overstatement, but comfort is relative. Our experiences can teach us to trust in God's provision. Nothing can separate us from the love of God except unbelief.
Apostle Paul says this about his being stoned at Lystra:

2Co 1:8 For we do not want you to be unaware, brothers, of the affliction we experienced in Asia. For we were so utterly burdened beyond our strength that we despaired of life itself.
2Co 1:9 Indeed, we felt that we had received the sentence of death. But that was to make us rely not on ourselves but on God who raises the dead.
2Co 1:10 He delivered us from such a deadly peril, and he will deliver us. On him we have set our hope that he will deliver us again.
Paul continues to talk about suffering he faced:

2Co 12:2 I know a man in Christ who fourteen years ago was caught up to the third heaven—whether in the body or out of the body I do not know, God knows.
2Co 12:3 And I know that this man was caught up into paradise—whether in the body or out of the body I do not know, God knows—
2Co 12:4 and he heard things that cannot be told, which man may not utter.
2Co 12:5 On behalf of this man I will boast, but on my own behalf I will not boast, except of my weaknesses—
2Co 12:6 though if I should wish to boast, I would not be a fool, for I would be speaking the truth; but I refrain from it, so that no one may think more of me than he sees in me or hears from me.
2Co 12:7 So to keep me from becoming conceited because of the surpassing greatness of the revelations, a thorn was given me in the flesh, a messenger of Satan to harass me, to keep me from becoming conceited.
2Co 12:8 Three times I pleaded with the Lord about this, that it should leave me.
2Co 12:9 But he said to me, "My grace is sufficient for you, for my power is made perfect in weakness." Therefore I will boast all the more gladly of my weaknesses, so that the power of Christ may rest upon me.
2Co 12:10 For the sake of Christ, then, I am content with weaknesses, insults, hardships, persecutions, and calamities. For when I am weak, then I am strong.
When I am weak, then I am strong. Learning to trust the power and provision of God delivers us from fear of death and failure.
For those who love the Lord, and who have been called into God's family by the gospel, perfect love casts out fear. As Paul wrote:

Rom 8:1 There is therefore now no condemnation for those who are in Christ Jesus.
Rom 8:2 For the law of the Spirit of life has set you free in Christ Jesus from the law of sin and death.
Rom 8:28 And we know that for those who love God all things work together for good, for those who are called according to his purpose.
Rom 8:29 For those whom he foreknew he also predestined to be conformed to the image of his Son, in order that he might be the firstborn among many brothers.
Rom 8:30 And those whom he predestined he also called, and those whom he called he also justified, and those whom he justified he also glorified.
Rom 8:31 What then shall we say to these things? If God is for us, who can be against us?
Rom 8:32 He who did not spare his own Son but gave him up for us all, how will he not also with him graciously give us all things?
Rom 8:33 Who shall bring any charge against God's elect? It is God who justifies.
Rom 8:34 Who is to condemn? Christ Jesus is the one who died—more than that, who was raised—who is at the right hand of God, who indeed is interceding for us.
Rom 8:35 Who shall separate us from the love of Christ? Shall tribulation, or distress, or persecution, or famine, or nakedness, or danger, or sword?
Rom 8:36 As it is written, "For your sake we are being killed all the day long; we are regarded as sheep to be slaughtered."
Rom 8:37 No, in all these things we are more than conquerors through him who loved us.
Rom 8:38 For I am sure that neither death nor life, nor angels nor rulers, nor things present nor things to come, nor powers,
Rom 8:39 nor height nor depth, nor anything else in all creation, will be able to separate us from the love of God in Christ Jesus our Lord.
Yes, unbelief is all that we have to fear. The outcome of unbelief is destruction and separation from the Love of God. Our faith is strengthened as we walk with Jesus, and experience His loving care, which is sufficient to get us through our greatest trials.