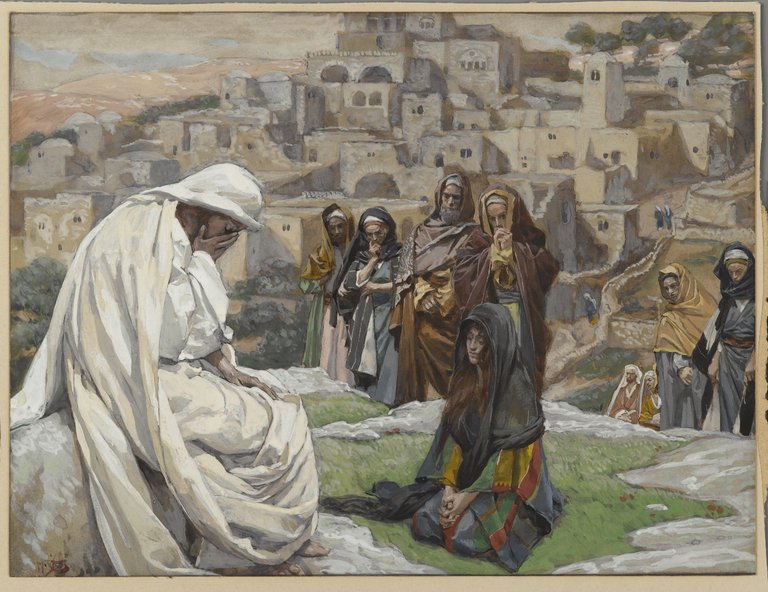 Jesus Wept
Jesus wept. Why did He weep? Not because hope was lost. He knew that there is more to life than our first life in the flesh. He knew that He was going to raise Lazarus from the tomb and give him another shot at life in the flesh. He also knew that there is a resurrection to new life that He would soon purchase with His agony on the cross.
Jesus wept because He shared the sorrow of Mary and Martha, siblings of Lazarus, who wailed because their brother was dead. John 11:32-43--
Therefore, when Mary came where Jesus was, she saw Him, and fell at His feet, saying to Him, "Lord, if You had been here, my brother would not have died."
When Jesus therefore saw her weeping, and the Jews who came with her also weeping, He was deeply moved in spirit and was troubled, and said, "Where have you laid him?"
They said to Him, "Lord, come and see."
S
o the Jews were saying, "See how He loved him!"
But some of them said, "Could not this man, who opened the eyes of the blind man, have kept this man also from dying?"
So Jesus, again being deeply moved within, came to the tomb. Now it was a cave, and a stone was lying against it. Jesus said, "Remove the stone." Martha, the sister of the deceased, said to Him, "Lord, by this time there will be a stench, for he has been dead four days."
Jesus said to her, "Did I not say to you that if you believe, you will see the glory of God?"
So they removed the stone. Then Jesus raised His eyes, and said, "Father, I thank You that You have heard Me. I knew that You always hear Me; but because of the people standing around I said it, so that they may believe that You sent Me."
When He had said these things, He cried out with a loud voice, "Lazarus, come forth."
NASU
Jesus also wept over the sad condition of people who had lost hope because of the degradation of sin. Jesus wept over Jerusalem, Luke 19:37-44--
As soon as He was approaching, near the descent of the Mount of Olives, the whole crowd of the disciples began to praise God joyfully with a loud voice for all the miracles which they had seen, shouting: "BLESSED IS THE KING WHO COMES IN THE NAME OF THE LORD; Peace in heaven and glory in the highest!" ---------------
When He approached Jerusalem, He saw the city and wept over it, saying, "If you had known in this day, even you, the things which make for peace! But now they have been hidden from your eyes. For the days will come upon you when your enemies will throw up a barricade against you, and surround you and hem you in on every side, and they will level you to the ground and your children within you, and they will not leave in you one stone upon another, because you did not recognize the time of your visitation."
NASU
Yes, Jesus wept because of the sad condition of people trapped in slavery to sin, slavery to their own selfish, destructive desires. Jesus wept even as He was preparing to bear the shame of sin on the cross. Jesus wept for those who would not believe in Him, and who would suffer destruction along with Jerusalem in 70AD.
Earlier Jesus spoke with Martha, John 11:21-26--
Martha then said to Jesus, "Lord, if You had been here, my brother would not have died. Even now I know that whatever You ask of God, God will give You."
Jesus said to her, "Your brother will rise again."
Martha said to Him, "I know that he will rise again in the resurrection on the last day."
Jesus said to her, "I am the resurrection and the life; he who believes in Me will live even if he dies, and everyone who lives and believes in Me will never die. Do you believe this?"
It is our positive answer to this question, "Do you believe that Jesus is the Messiah, the Son of God?" that can give us a reason to rejoice in the face of death. Jesus wept to show His compassion, and then went to the cross to purchase victory over death for all who believe in Him.
I wonder if Jesus weeps because of the unbelief of so many today? He was meek and gentle during His time on earth, but now He is Lord of heaven and earth. He is coming back one day to judge the living and the dead, and those who do not believe in Him will weep when they see Him coming in power.